Air ducts play an integral role in maintaining your home's air quality and comfort. But when is it time to enlist the help of a professional air duct cleaner? This depends on several factors that we will discuss in this blog post.
Knowing when you need professional air duct cleaning services can be tricky, but it doesn't have to be if you consult a professional. Nevertheless, here are a few signs that will help you determine if it's time to seek professional assistance.
Signs That You Need Professional Air Duct Cleaning Services
1. Musty Odors or Dusty Smells:
If you notice that your home has a musty or dusty smell, there is likely dust and debris in your air duct system. This buildup can cause odors to linger and worsen the quality of indoor air.
In some cases, this accumulation can lead to mold growth within the system, damaging indoor air quality even more. A professional air duct cleaning service will be able to thoroughly clean out your entire system and remove any sources of odor and contamination.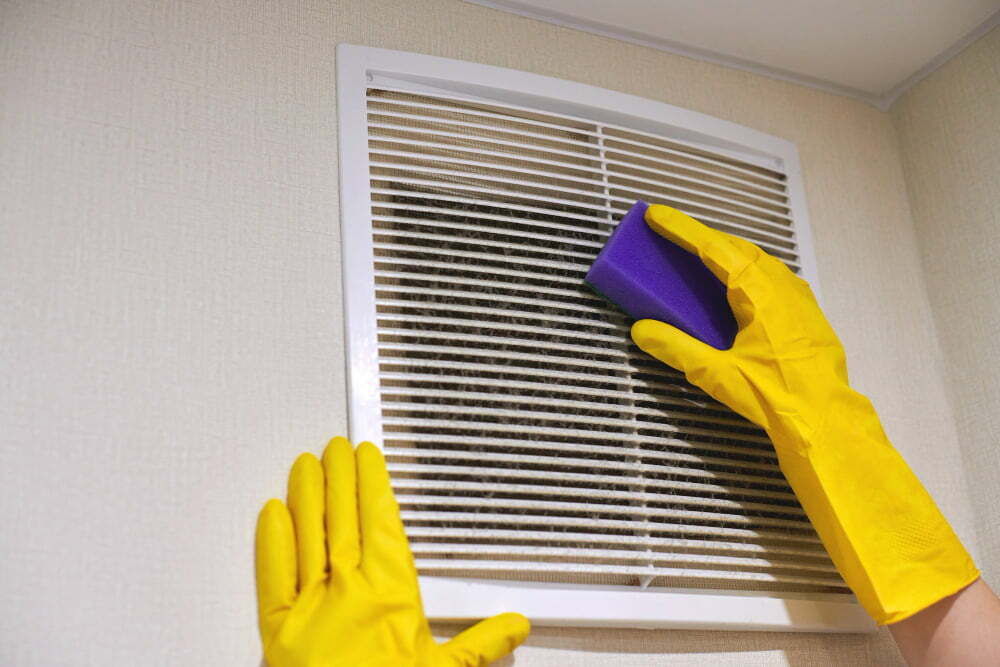 2. Visible Contamination:
Another sign that you may need to enlist the help of an experienced air duct cleaner is if you can see visible dust, dirt, or debris within your vents or other areas of the system itself. If this occurs, there is likely a buildup of contaminants within the system that needs to be removed for your home's indoor air quality to improve.
An experienced cleaner uses specialized equipment such as vacuums and brushes to eliminate unwanted particles or buildups within the system. As a result, it ensures a professional and thorough cleaning!
3. Unusually High Energy Bills:
If your energy bills have been unusually high lately, this could indicate a problem with your HVAC system or its components. A buildup of dust, dirt, and debris within the system can cause it to work harder than necessary to maintain comfortable temperatures throughout your home, resulting in higher energy bills for you over time!
A professional air duct cleaning service will be able to thoroughly clean out the entire system and make sure everything is operating at peak efficiency once again. Thus, you don't have to worry about skyrocketing energy costs anymore.
Finding A Quality Air Duct Cleaning Service
When searching for an air duct cleaner, look for experienced professionals with positive reviews and references from other customers. A good way to start is by asking friends and family members who they recommend.
However, always research even after receiving a recommendation, as each company offers different services and prices. Also, make sure that any company you choose offers thorough cleaning services.
Trust The Expertise Of AC Penguin Prestige For Air Duct Cleaning Services
AC Penguin Prestige is here to help with your air duct cleaning service needs. We use powerful cleaning methods, including vacuuming out the interior of the ductwork system. Furthermore, we use special equipment like brushes and compressed air tools designed specifically for cleaning out HVAC systems.
Cleaning your air duct is necessary to secure air quality in your home or business. Over time, dust, dirt, and other debris build up inside your ducts, which can lead to contamination and cause respiratory problems. Fortunately, AC Penguin Prestige specializes in air duct cleaning services designed to clean your HVAC system thoroughly and improve the overall air quality within your property.
At AC Penguin Prestige, we understand how important it is to maintain a clean and healthy environment. That's why our team of experienced professionals strives to provide the best possible service with unparalleled customer satisfaction.
Our technicians use state-of-the-art technology to provide an optimal air duct cleaning experience. When you choose AC Penguin Prestige, you can rest assured knowing that our team will do everything they can to ensure the job meets industry standards while keeping safety as their top priority.
So, if you're looking for a reliable partner for all HVAC service needs, look no further than AC Penguin Prestige! Our experts are available 24/7, so don't hesitate to contact us for more information about our services or to schedule an appointment.